Stéphane Abbet
Started building 1995 - First flight 2000
Stéphane Abbet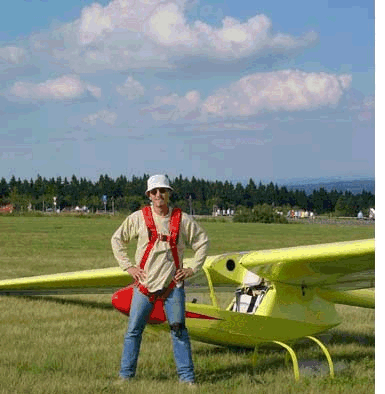 Click here to view Stéphane Abbet's original website in French
or - here, to view it GoogleTranslated into English.
There are already many years that I have the virus of the flight. Teenager, I started with the model where I learned to break the little wood. It made me really service thereafter for the different construction techniques. In 1986, not content to watch my fly gliders from the ground, I decided to spend my license delta. I flew most of the time in neighboring France. My playground was the Salève, many of Geneva fully aware and spend many weekends. I also flew quite Vallais of my home.
This is for my thirty years, in 1995 I decided to build a glider launchable by foot. My choice fell naturally on the Carbon Dragon because of his line but also its performance. And foremost it is because of financial m did so opt for a homebuilt. This is in somewhat unconscious that I go in this great adventure. I don 'have never imagined that I would need about five years, between 1800 and 2000 hours to realize my dream. Course before the end of the building, I had aprenne to fly a glider. That is why in April 1998, I decided to spend a licensed glider pilot Challes Waters. The French club warmly welcomed me and allowed me also to make the first Testing of the Carbon Dragon on his trail. And finally, it is in July 2003 I spent my license at ULM Bellegarde and I make the aquisition my coyote.

It is therefore for these reasons that I had wanted to share my passion. The site was due to first, do good in the future manufacturer of Carbon Dragon. When is that I have built my Carbon Dragon I felt very isolated one manufacturer. I 'already had contacts with Hugo Liehnard, but then it's turned out that we don 'were not so alone as that. The construction was not really complicated, but often I stumbled and got stuck on small issues, whereas a small photo or information m 'would so favor. This is what I have wanted to share with you.