Jim Maupin
Designer and builder of the original Carbon Dragon Prototype
(Click here to view Jim Maupin's original website)
First flight 1988
Jim Maupin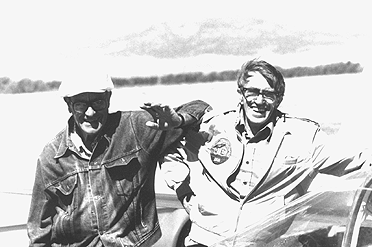 Irv Culver and Jim Maupin
The Carbon Dragon is best described as a "foot-launch able sailplane" although it meets the FAI definition of a hang glider, and neither glider nor pilot need to be licensed. It can be launched by foot, auto tow, air tow or bungee. It has superb climbing ability, and will soar in extremely light conditions. It soars in lighter conditions than any other soaring aircraft available today. It has significantly exceeded world record and out-and-back flights in its class.

Jim Maupin's original concept was a design with a 40 ft. wing span and a sailcloth flap that would roll up on a roller inside the wing, changing the area from 100 to 140 square feet and back again. After the tail boom and horizontal tail were already built, he was still struggling with the wing design. With the help of his friend and consultant, aerodynamicist Irv Culver, a new wing was developed with airfoils by Irv. It has a span of 44 feet. It has 30% chord, full span flaperons. As flaps, they operated from -5° to +15°. As ailerons, they have a 4 to 1 differential and operated from 4° down to 16° up. They are driven by two vertical push rods operating inside the fuselage... simple!

In flight the pilot is totally enclosed. The cockpit area is 17 inches wide in the area of the pilot's hips. Twelve inches above this in the shoulder, arm and elbow area, it is 25 inches wide. The structure consists of two triangular torque boxes down each side. The landing gear door is hinged on one side. When closed and latched, it is a 7.5G structure like all the rest. The glider lands on a wheel on the bottom of the door. The door extends some distance behind the pilot. If he stumbles and falls forward, his body goes up inside and the airframe hits the ground -- the pilot does not get a 145 lb. glider on his back.

In construction, the glider is basically a wood fabric sailplane, with judicious use of carbon for significant weight savings and to produce adequate stiffness. The wing and tail spar caps are constructed of carbon. The tail boom is an elliptical carbon tube made in two halves inside a simple mold. The control torque tubes are carbon formed over aluminum tubes, after which the aluminum is removed with swimming pool acid. The flaperons are each 22' long and driven from the inboard. They are carbon - wood is strong enough, but not stiff enough to avoid flutter. The rest of the structure is pretty straight forward. Wing ribs forward of the spar are band sawed from 1/4" 5-ply mahogany. Aft ribs are built up from 5/16" square spruce. Covering is dacron. The whole glider is designed to 7.5 G's ultimate, and has been proof loaded to the 5.0 G limit load. Time to build is approximately 1,500 hours, and a current builder estimtes the cost to be about $3,000. minus instruments.
All the early flights tests were done in the Tehachapi Valley. Airport altitude is 4,200 feet and density altitude varies up from that depending on temperature. Although the Carbon Dragon has been successsfully launched by the auto tow, aero tow, bungee and foot, however, most of its flights were made by auto tow.
The pilots who have flown it agree that the performance figures are realistic. It loses about 20 feet in a 360 turn. The stall is gentle and straight. The side stick seems totally natural. No one commented on it, though it was the first time many of them had flown with a side stick. Probably this is because time control pressures are very light.
Pilot Quotes:
---
"It has been one of the most rewarding projects I have ever done -- on par with cruising the Pacific in a yacht."
-- Mark Dunstone, Builder and Pilot

"Anyone who has built a radio control or free flight balsa model should be able to build this airplane. There are some areas that are tricky to work out, but articles like the one Clint Brooks and I wrote for Sailplane Homebuilder should help builders get through them."
-- Jonathan Pitt, Builder and Pilot

"Again and again the Dragon proved its ability to climb out in very light lifts that a hang glider or sailplane could not climb in. It did this with extremely gentle and easily handling characteristics. The Carbon Dragon is the easiest of all the gliders that I have flown, and yet is exceptionally fun to fly."
-- Dan Armstrong, Pilot, Sailplane Designer, Editor of Sailplane Builder

"Gary (Osoba) has applied for three World Records in Class 0-2 (hang gliders with aerodynamic controls). Two are from the flight described in this article, speed around a 200 km triangle and distance around a triangular course. He also applied for a straight distance attempt of 240 miles flown on July 15, 1995, during the Kowbell Klassic in which Gary places third close behind a couple of 15m flapped racers."
-- Article in Sailplane Builder, January 1996

"Most of all, I am honored to be flying Carbon Dragon. I love the way this glider embraces, dances with, and sings to the ocean of air we call our atmosphere."
-- Gary Osoba, pilot and former hang-glider designer and manufacturer, in (partial) response to receiving several awards from the Kansas Soaring Association, including The Most Outstanding Flight in a Primarily Wooden Glider, Pilot of the Year, and the SSA Governor's Trophy.

"...the glider can fly for hours without turning a circle! The first time I flew my Carbon Dragon in a 100-kilometer triangle, I broke the existing world record by 160% without really trying."
-- Gary Osoba, excerpt from a 10/94 Kitplanes article
Jim Maupin's prototype Carbon Dragon was bought by Gary Osoba, who went on to set several records flying it...